The idea is for satellite coverage to fill connectivity gaps in hard-to-reach areas that are without cellular or Wi-Fi signals. It is planned for the service to be available to customers and distribution partners in Q3 2022. Asset tracking, fleet management and data collection, globally, are seen as target applications.
It will use LR-FHSS (Long Range-Frequency Hopping Spread Spectrum) technology, which has been designed for long-range and large-scale communication scenarios such as satellite IoT. The on-orbit operation has been validated by Lacuna through several years of their own sub-GHz ISM operations, and is now also being made available using Omnispace's licensed, 2GHz S-band spectrum rights.
Basically, the idea is to integrate both companies' infrastructure to allow devices to connect between existing terrestrial networks and previously un-connected regions around the world.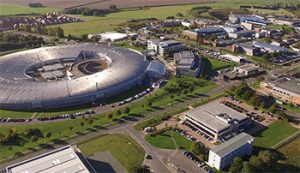 Lacuna Space is a UK and Dutch company – headquartered at Rutherford Appleton Laboratory Harwell Campus in Didcot, pictured right – that provides low-cost global connections, for short data messages to sensors and mobile equipment. The company describes it as an ultra-low cost tracking and detection service.
Based in Washington D.C, with access to satellites and ground stations, Omnispace provides a 5G-based global cellular network via a non-geostationary orbit satellite constellation (MEO and LEO), and is eyeing the IoT market.
"Omnispace is reimagining mobile communications solutions for users by employing standards-based solutions to deliver global, real-time connectivity," said Ram Viswanathan, president and CEO for Omnispace. "We're pleased to be working with Lacuna to introduce this new enterprise-class service, which is part of our broader vision to deliver seamless terrestrial and satellite communications."
According to Lacuna, its initial set of sensors are smaller than the palm of a hand and can connect over satellite for several years off a single battery charge.
"We are happy to announce this agreement with Omnispace which accelerates getting our technology to market and enables us to start delivering our IoT services around the globe," said Rob Spurrett, CEO of Lacuna. "Our customers will be able to access Lacuna's IoT service directly from inexpensive, battery-powered LoRa devices to extend connectivity to even the most remote areas of the world."
Semtech silicon
Earlier in the year, Lacuna Space and Semtech trialled extending the coverage of LoRaWAN by adding IoT-to-Satellite connectivity.
Semtech – which is the owner of the underlying Long Range modulation technology – has their radio silicon in proprietary radio links. It has become the foundation technology on which LoRaWAN protocol has been built by the LoRa Alliance (with 500 member companies, of which Lacuna is one).
"We have trials and demonstrations underway in many countries and regions that were previously thought to be inaccessible to IoT," said Lacuna Space CEI Rob Spurrett back in January."
In competition with Omnispace, other companies looking to provide satellite-based 5G and broadband networks include Elon Musk's Starlink, Jeff Bezos' Project Kuiper, the Lausanne-based Astrocast and the UK government-owned OneWeb.
For Lacuna, competition in the Satellite IoT area include Skylo, a satellite-based narrow-band IoT specialist that uses Inmarsat, as well as Hiber and Fleet Space Technologies.
See also: Astrocast's bidirectional satellite IoT service launches commercially