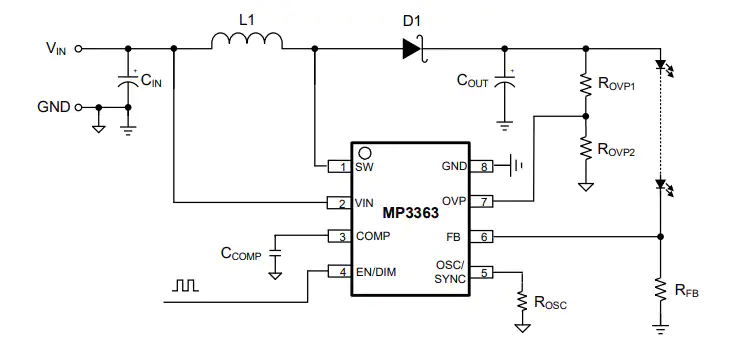 Monolithic Power Systems (MPS) MP3363 Boost LED Drivers offer an ideal solution for low-current and high-current boost applications. The MP3363 provides a low 0.2V feedback voltage (VFB), allowing higher efficiency in white LED driver applications. The device regulates the output voltage (VOUT) up to 36V, with an efficiency as high as 95%. Additionally, the current mode regulation and external compensation components permit the MP3363 control loop to be optimized across a wide variety of input voltages.
The MPS MP3363 Boost LED Drivers deliver analog dimming and pulse-width modulation (PWM) dimming on the same pin. An input PWM signal with a dimming frequency below 2kHz initiates PWM dimming, while an input PWM signal with a dimming frequency above 5kHz initiates analog dimming.
The MP3363 drivers implement many protection features, including soft start, cycle-by-cycle current limit, and input under-voltage lockout (UVLO) protection that prevents the sensitive external circuitry from being damaged or overstressed during start-up or potential overload current conditions.
The MP3363 Boost LED Drivers are housed in a TSOT23-8 package.
Features
Wide 1.8V to 36V input voltage range
1A Peak current limit
0.5μA Shutdown current
Low 200mV Feedback Voltage (VFB)
200kHz to 2.2MHz Configurable Switching Frequency (fSW)
Internal 100mΩ, 40V power switch
High efficiency
Analog dimming and Pulse-Width Modulation (PWM) dimming
Under-Voltage Lockout (UVLO) Protection
Open/Short LED protection
Short FB to GND protection
Soft start
Thermal Shutdown (TSD)
Available in a TSOT23-8 package
more information: https://www.monolithicpower.com/en/mp3363.html