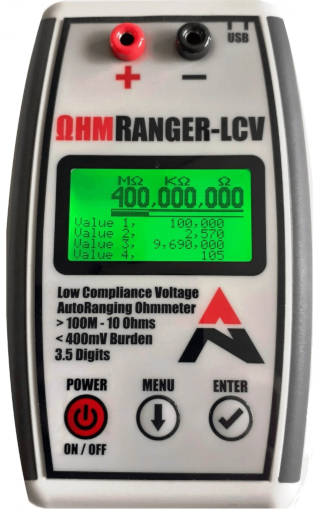 It is called OR-01 OhmRanger-LCV (LCV for 'low compliance voltage') and measures resistances from 10Ω to 100MΩ while applying 206 or 380mV (selectable) maximum to prevent harming a device under test. Maximum stimulus is limited to ~30mA.
"Additional built-in features include a signal-to-noise measurement, which indicates how much noise, variation and ac elements are in the signal, as well as maximum and minimum current samples during the reading," according to Saelig, which is stocking the instrument, explaining: "Higher resistances, so lower currents, are more susceptible to noise errors."
A back-lit 128 x 64 LCD provides the user interface, and is updated every 400ms from 160 averaged samples to quell 50 and 60Hz line noise.
Factory-set calibration compensation is applied to both current and voltage measurements, and a configurable audible signal tells the user that a stable reading has been achieved – a series of measurements can automatically be logged at the bleep for when the user has to concentrate on probe positioning.
Accuracy is 1% (100Ω – 1MΩ), 2% (1MΩ – 100MΩ, and <100Ω) or 5% (>100MΩ).
To connect to an external PC without affecting measurements, and isolated micro-USB interface is provided for device control (SCPI format) and data export.
The unit is 148 x 90 x 30mm, weighs ~200g (without batteries) and runs from two AA cells which are expected to last for 150 operational hours – both the power off timer and backlight are user-configurable to extend battery life.
The instrument is based on AltoNovus' NanoRanger current meter, and came from a need to measure Josephson junctions at quantum computer company D-Wave Systems – such junctions are destroyed by measurement voltages over 300mV.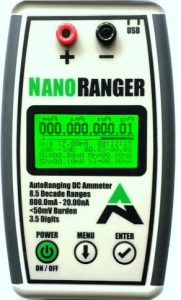 NanoRanger current meter measures from 20nA (10pA resolution) to 800mA. Errors are <0.3% in its middle ranges
"A prototype low-compliance-voltage ohmmeter was quickly developed, and the design was subsequently refined through testing and practical lab use," according to AltoNovus.
"The AltoNovus OhmRanger-LCV turned an error-prone measurement into a simple measurement," according to D-Wave.
Applications are foreseen measuring transition edge sensors, nanowires, nanoscale meta materials, and memes, said distributor Saelig.
OhmRanger is made in the UK.