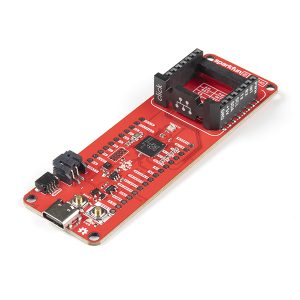 It merges their respective rapid prototyping ecosystems: SparkFun Qwiic, SparkFun MicroMod and MikroElektronika's Click boards. Basically, they have merged the mikroBUS standard, found on MikroElektronika's Click boards, and the similar SparkFun's Qwiic and MicroMod interfaces. You plug boards and peripherals together in a solderless way.
Plus the SparkFun RP2040 mikroBUS Development Board features the Raspberry Pi Foundation's RP2040 microcontroller…
SparkFun RP2040 mikroBUS Development
The board combines SparkFun's Qwiic I2C connections with a mikroBUS socket, allowing users to use both ecosystems when designing projects with the RP2040.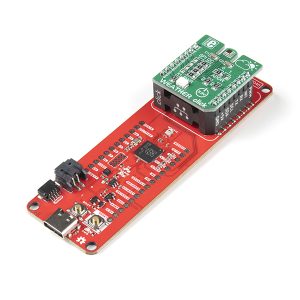 The board also follows the Thing Plus or Feather PTH pin layout to allow for Thing Plus/Feather shields.
Measuring 2.3″ x 0.9″, with 16MB of QSPI Flash Memory, a range of LEDs and four mounting holes, it is priced at $14.95. You can read more about the new board on the SparkFun website.
Raspberry Pi launched its first microcontroller-class product, the RP2040, back in January 2021. It contains two ARM Cortex-M0+ processors (up to 133MHz) and features:
264kB of embedded SRAM in six banks
6 dedicated IO for SPI Flash (supporting XIP)
30 multifunction GPIO:
Dedicated hardware for commonly used peripherals
Programmable IO for extended peripheral support
Four 12-bit ADC channels with internal temperature sensor (up to 0.5 MSa/s)
USB 1.1 Host/Device functionality
Note that that Qwiic boards and cables, as well as Click boards, are not included with the RP2040 mikroBUS Development Board. You'll have to buy these separately.
"We are excited to not only begin offering MikroElektronika's full line of Click boards in the SparkFun catalog, but to also design and release two new development boards in partnership with MikroElektronika," said Glenn Samala, SparkFun CEO. "MIKROE shares our strong dedication to innovation and making prototyping as easy as possible for users. Combining the mikroBUS peripheral with our MicroMod and Qwiic product ecosystems will provide users with billions of combinations to develop whatever they dream up."
SparkFun MicroMod mikroBUS Carrier
Note that the companies have also released another board together: the SparkFun MicroMod mikroBUS Carrier Board.
Again, this uses the MicroMod, Qwiic, and mikroBUS ecosystems for rapid prototyping, suitable for peripherals from any of the three systems already mentioned.
The idea is that the MicroMod M.2 socket and mikroBUS 8-pin header let you experiment with the MicroMod ecosystem and any Click board in the mikroBUS ecosystem.
Two Qwiic connectors also allow you to integrate hundreds of Qwiic sensors and accessories into their projects, say the companies.