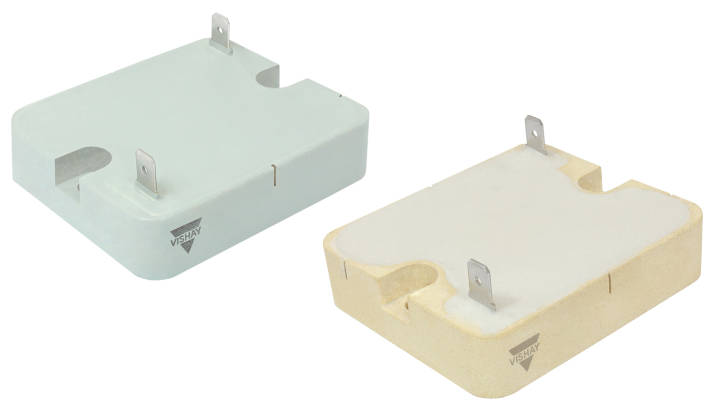 Vishay Intertechnology has introduced an AEC-Q200 qualified charging resistor "that is the industry's first such device to feature hybrid wire-wound technology in a standard package size", it said. "Typically, designers must utilise several thick film resistors to meet the high pulse requirements of these applications."
The parts, called HRHA, can handle 6kJ for 300ms and operate across -55 to +250°C.
The parts have to be heatsunk: continuous ratings are up to 90W on 6mm thick stainless steel and 54W on 6mm Pamitherm (a mica-silicone composite).
Tolerance options are ±5% and ±10%, and typical temperature coefficient is ±100ppm/°C. E24 resistances between 1Ω and 1kΩ are available – plus custom values.
The footprint is 60 x 70mm and the parts are 26.2mm tall including 6.35mm (1/4 inch) spade terminals.
Mounting requires M4 screws, split (Grover) washers and flat washer, and a procedure that includes a torque setting.
According to Vishay, a second similar type includes a fuse.
Applications are expected as pre-charge and discharge resistors in inverters and converters.